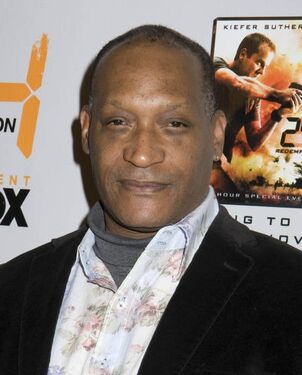 Tony Todd portrayed Duke in Sushi Girl.
Early Life
Todd was born in Washington, D.C. He grew up in Hartford, Connecticut, and attended local schools. He is also an alumnus of the Artists Collective, Inc. Tony attended the University of Connecticut and then went on to study theater at the Tony Award Winning Eugene O'Neill National Theatre Institute. and Trinity Rep Conservatory.
Career
Television
He is gaining particular renown for his appearances in popular science fiction/fantasy series
His other television appearances include a recurring role on Boston Public and guest appearances on Law & Order, Homicide: Life on the Street, Hercules: The Legendary Journeys, Xena Warrior Princess as Cecrops, The X-Files, Smallville, Angel, 24, Charmed, Stargate SG-1, Andromeda, Criminal Minds, and in Chuck. He is one of the few actors to have portrayed two different speaking roles on 24. He was initially cast as Detective Michael Norris in season three and four years later as General Benjamin Juma in both 24: Redemption and season 7. He also played a lead role in the Babylon 5 TV movie A Call to Arms.
He currently plays the voices of the Decepticon named Dreadwing on Transformers: Prime, and Icon in Young Justice.
Film
He has appeared in more than 100 screen and television films, and has played opposite many major stars in Hollywood. His movie credits include: Platoon (1986), Beg (film 2010), Night of the Living Dead (1990), Candyman (1992), The Crow (1994), The Rock (1996), Wishmaster (1997), the Final Destination series (2000–2011), and Minotaur (2006). Todd was the voice of The Fallen in Transformers: Revenge of the Fallen. Todd is also in the Rel Dowdell film Changing the Game. Todd was a special guest of the Weekend of Horror Creation Entertainment on May 23, 2010 and the Screamfest LA. Tony starred in Hatchet 2, which was released in a limited number of theaters on October 1, 2010. As Final Destination 5 returned to the series' roots, Todd returned as William Bludworth.
Trivia
Date of Birth: 4 December 1954 , Washington, District of Columbia, USA.
Has two children.
Brother of Monique Dupree.
Sources
Gallery