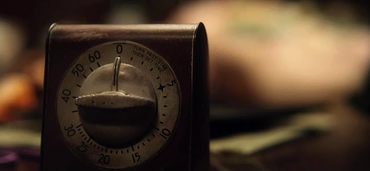 The timer is an item used in Sushi Girl.
Sushi Girl
The timer seen in the film is owned by Duke. The timer was onced usedd by Duke's father; as it turns out, it was not. The entire story that Duke had told was a lie.
Overview
A timer is a specialized type of clock for measuring time intervals. A timer which counts upwards from zero for measuring elapsed time is often called a stopwatch; a device which counts down from a specified time interval is more usually called a timer. A simple example is an hourglass. Some timers sound an audible indication that the time interval has expired. Time switches, timing mechanisms which activate a switch, are sometimes called "timers".
Timers and time switches may be free-standing or incorporated into appliances and machines. Their operating mechanism may be mechanical (typically clockwork), electromechanical, or purely electronic (counting cycles of an electronic oscillator). Timing functionality can be provided by software, typically in a computer; the program is often called a "timer".
Sources