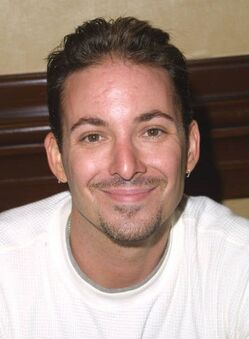 Noah Hathaway portrayed Fish in Sushi Girl.
Biography
Noah Hathaway was born on November 13, 1971, to Judy and Robert Hathaway. He is one-quarter Mohican on his father's side. Noah started his way to stardom in commercials (in which he began to appear at age three). In 1978, he landed the role of Boxey on the cult Sci-Fi show, Battlestar Galactica (1978). Later that year, he played the role of Atreyu in The NeverEnding Story (1984) and the lead as Harry Potter Jr. in Troll (1986). He taught advanced jazz and street dance in his late teens until an injury forced him to quit at 18. Afterwards, he studied Muay Thai boxing and then fought as an amateur. Noah then stayed out of the limelight until 1992 for the drama To Die, to Sleep (1994).
Prior to moving back to LA in 1998, he lived in New York for two and a half years. In his spare time, he tries to get out to the track at Willow Springs, California, to race in Super Sport motorcycle racing. He has tended bar at several LA clubs and has several tattoos. He holds black belts in Tang Soo Do and Shotokan, and is currently learning American Kenpo from Dr Jerry Erickson, and he also helps him teach "a close-quarter combat-training course for flight attendants and pilots for the airlines."
Personal Life
Hathaway attended school at Lycee Francais de Los Angeles. He moved into dance instruction, teaching advanced jazz and street dance until an injury forced him to quit in 1989 at age eighteen. Trained in martial arts, Hathaway would later earn black belts in Tang Soo Do and Shotokan Karate, and also competed as a Muay Thai boxer, and learned American Kenpo from Dr. Jerry Erickson. Hathaway spent some of his time at the Willow Springs Raceway in Rosamond, California competing in supersport motorcycle racing, and designing and driving "chopper" motorcycles. He is on tour with WizardWorld Conventions and will be appearing at the Chicago and Philadelphia shows in 2011. He recently appeared in Adelaide, South Australia (June 2012) at a screening of the Neverending Story.
Trivia
Working on opening his own motorcycle shop, "5150 Choppers" in Miami. [September 2003]
Worked as a bartender in several Los Angeles clubs.
Sources
Gallery