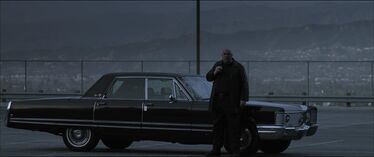 Imperial LeBaron
is a vehicle seen in the
film
.
Overview
Imperial was the Chrysler Corporation's luxury automobile brand between 1955 and 1975, with a brief reappearance in 1981 to 1983.
The Imperial name had been used since 1926, but was never a separate make, just the top-of-the-line Chrysler. However, in 1955, the company decided to spin Imperial off as its own make and division to better compete with its rivals, Lincoln and Cadillac. Imperial would see new body styles introduced every two to three years, all with V8 engines and automatic transmissions, as well as technologies that would filter down to Chrysler corporation's other models.
1968
The 1968 Imperial was little changed from the previous year. The grille changed to a brightly chromed one with thin horizontal bars, split in the middle by vertical chrome and a round Imperial Eagle badge. At the rear, the horizontal bars over the taillights were gone. All 1968s came with a Federally mandated energy absorbing steering column. The base level of trim was cancelled after only one year and the convertible and four-door sedan became part of the Crown level of trim. This was also the last year for the Imperial convertible. A total of 15,367 Imperials were sold in 1968.
Sushi Girl
This is vehicle driven by the Henchman.
Sources