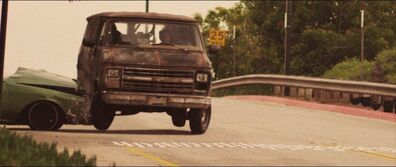 1985 Chevrolet Chevy Van is a vehicle seen in Sushi Girl.
Overview
The Chevrolet and GMC G-Series vans were made by General Motors for North America. They are in the same vehicle class as the Ford Econoline van and the now discontinued Dodge Ram Van.
The term "Chevrolet van" also refers to the entire series of vans sold by Chevrolet. The first Chevrolet van was released in 1961 on the Corvair platform, and the latest Chevrolet van in production is the Chevrolet Express.
The G20 and its counterparts replaced the original Chevrolet Corvair Greenbrier Van in the late 60s the model line evolved until it was replaced in 1996 by the Chevrolet Express. 1964-70 G20s came with six-lug wheels (6 lugs - 5.5" (139.6 mm) bolt circle), while the 1971-96 generation came with the 5 lug - 5" (127 mm) bolt circle.
G20s were fitted with the ball joints from the Chevrolet/GMC 3/4 and 1 ton pickups although using the 1/2 ton pickup's brake rotors.
A light duty version, the G10, was produced alongside the G20 - the early versions used the Chevrolet passenger car wheels (5 lugs - 4.75" (120.7 mm) bolt circle) until 1975 (G10s manufactured prior to the 1976 model year had the smaller bolt pattern, common with the short wheelbase vans), yet can still handle LT tire sizes for better handling and stability. The G20 series sported an SB 262 4.3L engine, not much was changed mechanically in the vehicles since their release, other than carburettor to a throttle body fuel system, and less use of a vacuum system. Currently there are more after market part options available for its V8 counterparts. Not much has been done in the lines of performance options for the small V6 G20 models, but the reliability remains the same throughout all the G-series models.
1985 Update
The taillight and side marker lenses were redesigned. New Grille Treatment similar to the pickups.
Sushi Girl
See also: Falkore Plumbing.
Sources